In contemporary decorative painting, daisies, pansies, violets, hydrangea etc, even roses, can be painted in loose, casual strokes using a round brush, flat brush or filbert brush. At some point of time, every beginning decorative painter will aspire to paint projects in such a fashion.
Ironically though, it is only with practice that those perfect comma strokes can transform into more loose and casual strokes that seem to dance on your surface.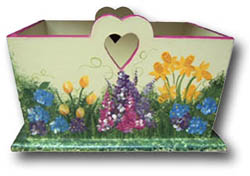 In this example of a beginner project, various kinds of country flowers are loosely painted on a background of green foliage.