Fruits
Fruits are a wonderful subject for a decorative painting project and are usually painted using a flat brush.
As with roses, there are many ways to paint a fruits composition. The fruits may look stylistic or realistic depending on the painting style applied. The dominant technique used in painting a fruits composition in the following examples is "floating".
Floating is a technique used to paint shadows and highlights on a subject and is traditionally done using a flat brush. Although you might find it difficult to comprehend at first, the bigger the brush, the better.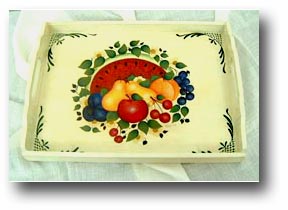 These fruits on an MDF tray were painted based on a Tolehaven design and technique by Gail Anderson. The project involves basecoating the fruits, then adding shadows and highlights using the floating technique. The fruits were then given added dimension by adding drybrushed final highlights.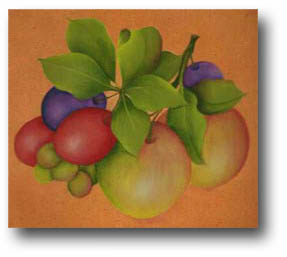 Another fruits project based on a design and technique by Helen Jeglic. The fruits here are painted to look more realistic but have been achieved using the same technique of floating shadows and highlights.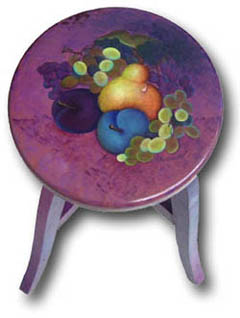 Yet another technique. A fruits composition was painted on this wooden stool using Carol Sharpe's technique. Similar to painting with oils, the technique requires the use of a medium called retarder to extend the working time of the acrylic paints used. Very dramatic colours were used in painting these fruits.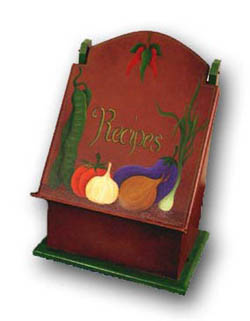 Malaysian and other vegetables were painted on this recipe box using the floating technique. The combination of a brown background with green borders gives the project a distinct country look.