Painter's Tales
Ever since the first day I started decorative painting, I have used the Masterson Sta-Wet Palette. This fabulous stay-wet palette is designed to keep your acrylic paints from drying out while in use or storage. It uses a unique permeable paper over a cellulose sponge and provides your paints with a constant source of moisture. Paints are easier to work with because they stay moist for hours, even in the open air. When I'm finished or I need to stop painting for a while, I snap the lid on and the paint stays fresh for hours, days, even weeks! No wasted paint! When its humid or when I'm travelling, I keep it in the fridge and believe me the paint is fine when I get back.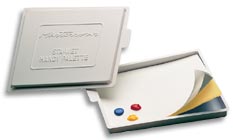 I use the Premier Palette for painting in my studio because of its large size. The smaller Handy Palette is great for classes and seminars. Each set comes with 5 sheets of the permeable paper (use it over and over again and 5 sheets can last you months, refills available when you've used them all up), a cellulose sponge, the palette tray and lid plus instructions for preparation and use. The palette works with any paints but my favourite paints are Jo Sonja' Artist Paints.
If you read my Basecoating Guide you will find that I advise using the wet palette for basecoating as it prevents the paints from drying. I also enjoy using Jo Sonja's Background colours for basecoating because they give good coverage and come in a wide selection of colours.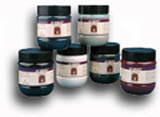 Have you also read my Varnishing Guide? I use mainly Jo Sonja's Water-based Varnishes because they give me really good results. And I use my wet palette to varnish also...I can stop anytime or take a break between coats without the varnish drying out on me.
What about brushes? (Read All About Brushes to get an overview.) I use all kinds of brushes but my personal favourite has to be the Robert Simmons series. The "Sienna" range is particularly affordable and are extremely poplular and perfect for decorative painting with acrylics. They are short-handled, with a high quality, state-of-the-art blend of synthetic filaments for hairs. The result is a smooth, soft feel and brush tips that return to a sharp point or edge every time. The ferrules are precision-engineered, plus they are 22K gold-plated to add a final touch of luxury.