What is Intarsian Painting?
Not to be confused with the woodworking technique of intarsia, Intarsian Painting is a form of decorative painting where wood inlay and traditional intarsia woodworking are imitated by painting.
It is sometimes called "Intarsian Malerei".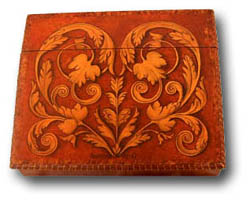 What is Intarsia?
Intarsia (pronounced "in-tar'-see-a") is a woodworking technique based on a 15th century Italian artform. It is probably most accurately described as the making of pictorial mosaics by laying precious and exotic materials into or onto a groundwork of solid wood.
Italian authorities have suggested that the term "Intarsia" is derived from the Latin verb interserere which means "to insert or the process of inlaying wood".
Intarsia is similar to inlay, but where inlay is flat, intarsia is three-dimensional. This effect is achieved by a series of steps. Using a two dimensional pattern created on paper, contrasting woods and grains (e.g. walnut, oak, cherry, mountain ash pine, western red cedar, juniper, cottonwood, poplar, maple, Russian olive, apple and elm) are assigned to the design. Then the woods are cut, sanded, assembled and glued to a backboard. Intarsia woods are never stained so that they retain their original wood colour. All Intarsia is finished with a high gloss, clear polyacrylic coating.
The process of inlaying one wood into another is now referred to as marquetry, with the difference being that a thinner veneer is used.
---
The origins of Intarsian Painting
Intarsian painting probably originated during the Biedermeier Era which is a period defined as being between the years 1815, the end of the Napoleon Wars, and 1848, the year of the European revolutions. It is believed that painted decoration during this period was used to imitate the furniture of the wealthy which were usually ornate pieces with inlays and intarsia work painstakingly done.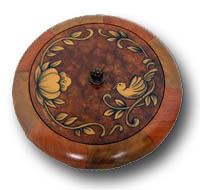 Artisans would perform the "imitation" work applying stencils on bare wood to imitate various inlaid materials. Designs would involve florals and sometimes birds. Floral designs were understated - usually small bouquets with ribbons and dainty borders and not much of an area on the objects were decorated so that more attention was devoted to showing off the woodgrain.

In today's intarsian painting, faux woodgrain backgrounds - usually woods and veneers used in intarsia and marquetry are painted onto the project surfaces. And following the tradition of stencilling, inlay work is imitated using stencil cut-outs.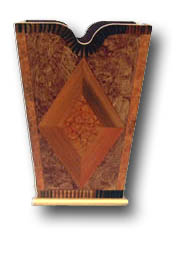 Various kinds of woodgrains are incorporated in the geometric design of this small bin.

A rather ornate design was painted on this pencil box using the intarsian painting technique.