Faux Finishes - Historical Examples
Historically, the most commonly imitated finishes were various kinds of marbles and woods. In the 17th century for example, master artists were commissioned to decorate the Versailles Palace. Skilful gilding, marbleizing, and "trompe l'oeil" effects on mouldings etc transformed palaces and other residences of the European aristocracy into truly magnificent works of art.
Faux finish techniques continued to be used in the 19th century, when decorative painting reached glorious heights in France and most of Europe. At this time, the burgeoning middle and upper classes also began decorating their homes lavishly, rivalling the elegance that was once accessible only by the noble classes. Elaborate faux finish techniques were employed to achieve the luxurious look of marble and expensive woods, stonework and various other kinds of ornamentation both textural and architectural.
The use of techniques to imitate marble and woodgraining as well as inlays of various woods and other materials like mother-of-pearl etc filtered into some of the traditional folk arts like Hindeloopen, Bauernmalerei, Rosemaling and Canalboat Painting as simple decorative effects meant to enhance their painted designs. A marble effect, for example, was commonly painted on panels of painted furniture or other objects very simply using the colors picked from the painted design.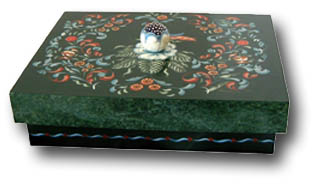 The sides of the cover of this Hindeloopen document box were given a faux green marble effect.
Woodgraining was done to simulate wood grain patterns with paint and was used in many different styles of traditional decorative painting. Oak graining, for example, was used in Canalboat Painting, and rosewood graining was very popular in early American folk painting. In Intarsian Painting, various woodgrains were imitated to create a wood inlay effect on furniture during the Beidermeier Era.
Many old pieces of painted decoration found have been deliberately aged using various methods which we know today as "flaking paint" or "crackle" effect. This is a form of faux finish which is aimed at tricking the viewer into thinking that a painted object is older than it looks, even an heirloom! This effect of fracturing or breaking of the background color and the painted image was also quite common among French tole pieces.
Uses of Faux Finishes in Today's Decorative Painting
Faux finishes are used in a variety of ways in decorative painting today:
by itself for a complete project, ideal to get a "masculine" look

as a background before painting a design

as a border for a painted design

as a complement for a project e.g. on the insides, bottom or sides of a box

using many different finishes, to create an

intarsian

project
This cigar box was decorated with a faux red toroiseshell effect. The edges of the box were gilded using gold paint.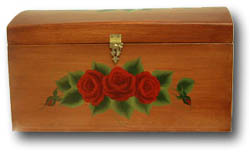 Real wood? This MDF wooden trunk was woodgrained and then painted with a roses design on all sides.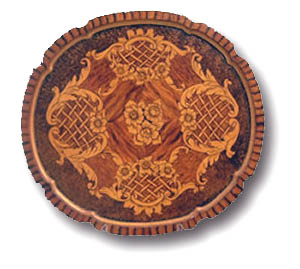 Various woods are imitated in this intarsian painting project, many European. This tray was a labour of love - painted with Vicki Nicholson at one of her seminars in Kuala Lumpur.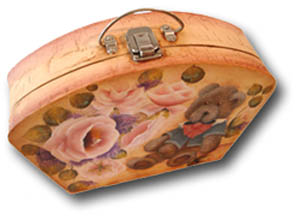 The sides and back of this papier mache box-bag painted with a teddy and roses design were crackled to give an old world look.