Hindeloopen
Hindeloopen is named after a little harbour village in the northern province of Friesland in the Netherlands where, at the beginning of the 17th century, woodcarving became very popular.
Features of the Folk Art of Hindeloopen
The Hindeloopen style can be distinguished by a mass of acanthus scrolls and small flowers. Favourite flowers are daisies, poppy heads, roses, chrysanthemums and tulips.
Leaves and flowers are first stroked in using a round brush and dark colours are then used as shadow strokes representing the carved out portions of the wood. A third stroke in a lighter colour would be painted to represent the embossed higher portion of the carving.
Often a "lucky bird" is featured perched at the centre of the design amidst the flowers. This bird is always painted looking over his shoulder to keep evil spirits away.
Faux marbling techniques are also used in Hindeloopen and often graced the sides of items painted.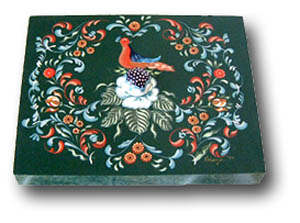 This elaborate document box was painted at a seminar with Sandy Aubuchon. Typical Hindeloopen colours were used in this project and the sides of the box cover were decorated with a marbling effect.
---
Origins and Development of Hindeloopen
The rich favoured oak as a status symbol and frequently had elaborately carved oak for doors and furniture in their homes. The first painting began at the end of the 17th century when the wood carvings were decorated with available colours like green, blue and red. Eventually, carving designs were painted on instead of the wood being carved.
The Hindeloopen style became very popular and folk artists there still use oil paints to paint their designs. Typically, greens, blues and reds were used in painting Hindeloopen.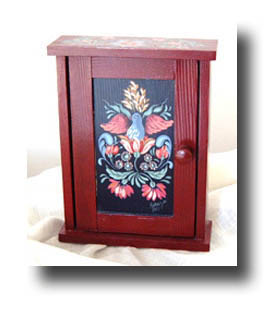 Hindeloopen in traditional colours painted on a key cupboard. The design is based on various projects in Sandy Aubuchon's book "Hindeloopen American Style".
Many Hindeloopen designs are, however, painted in tones of a single colour e.g. blues or browns. Dutch sceneries are also sometimes included in Hindeloopen designs and are painted in a simplistic manner paying little attention to proportion.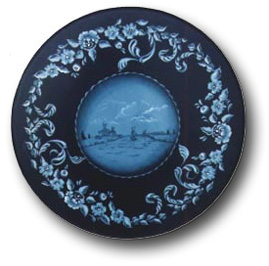 Hindeloopen scrolls and flowers with a Dutch scenery painted in three tints of blue on a carousel. Adapted from a design by Merrell Davis.
Oriental artefacts and chintzes brought home by Dutch sailors of the 16th and 17th century also influenced the development of Hindeloopen. Hindeloopers attempted to imitate the porcelain pieces by painting similar designs on wood.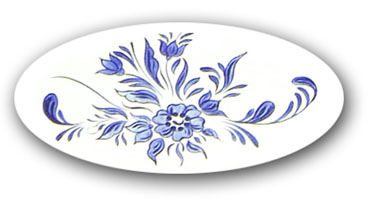 During the cultural decline of the 18th and 19th century, interest in Hindeloopen painting disappeared and enjoyed a revival only in the late 19th century. Additional painting techniques developed during this period, namely the Roosje Style and the Huttinga Style.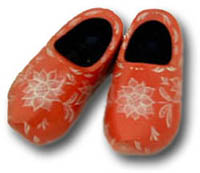 A pair of traditonal Dutch klompen painted in the Huttinga style.