Rosemaling
Rosemaling is a decorative folk art originating from Norway. As far back as the 1700's, Norwegian artisans decorated not just their household objects but walls and ceilings. Rosemalers covered entire rooms in rosemaling. Sometimes religious and wedding scenes were added in rather primitive style. It is said that its roots lie in the elaborate carved scrolls found on viking boats.
"Rosemaling" literally translated means "rose painting" and stylized roses, together with the acanthus scroll were the most important elements of this Norwegian folk art.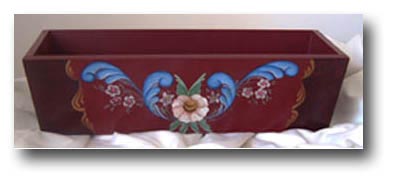 A simple Rosemaling project suitable for beginners.
A traditional Rosemaling design is characterised by flowing lines and scrolls, imaginative, fanciful flowers, and subtle, earthy colors.
---
Features of Rosemaling
The basis of all rosemaling is strokework at a skilful level and careful and confident blending. Flowing 'C' and 'S' strokes are used to make up the scrolls. The design is usually enhanced with commas, teardrops and long delicate lines tying the design together.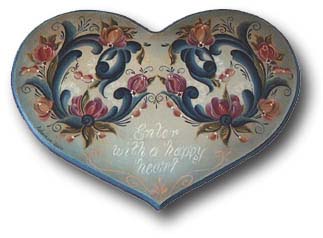 This heart-shaped plaque was painted with a symmetrical rosemaling design adapted from a design by Shirley Peterich, CDA
---
Regional Variations of Rosemaling
The Hallingdal Style is a characteristic Baroque style with strong symmetrical designs and bold colours.
Rosemaling in the Telemark Style on the other hand is more infliuenced by the Rococo style - flowing, asymmetrical and more intricate. Sometimes, telemark rosemalers paint using a transparent technique which allows the wood to show through. This technique is painted today using kleister mediums or clear glaze mediums which create transparency when added to acrylic paints.
The Rogaland Style had an Oriental flavour influenced probably by the tales of Norwegian seafarers docking in at the coast. These features include the darker backgrounds and delicate lattice work. Flowers painted in the Rogaland style were, however, more realistic.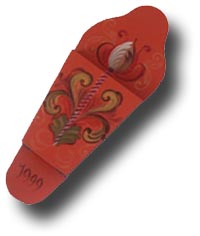 A very simple Rosmaling design painted in the regional style of Telemark on a small scissors holder.