Roses
Roses are a fascinating flower to study and paint and there are many, many forms that the aspiring decorative painter can learn to paint and over time, master. Stroke roses are the dream of many beginning decorative painters!
Roses have been a universally favourite flower to paint - artisans and fine artists alike have incorporated the rose in their designs for centuries. They have been the primary subject matter in almost all traditional folk art - in Bauernmalerei there is the Tolzer rose, in French folk art, the Montpellier rose and the Strasbourg rose. The Rococo rose too is well-known. In some cases such as Hindeloopen, roses were painted naively and in others such as Zhostovo, they looked more realistic.
All of these roses, however, had one thing in common - they were all painted using round brush strokes.
Over time the flat brush technique for painting roses was developed and the predominant technique used in painting stroke roses in contemporary decorative painting today is double-loading using a flat or angle brush. Some decorative artists have also developed techniques of painting a stroke rose using a triple-loaded flat or angle brush.
---
Basic stroke roses
There are many ways of painting stroke roses today and each artist endeavours to create her or his own brand of roses. The basic structure of flat brush roses remains the same - different techniques and strokes employed are what creates the different looks. The basic stroke rose today can be painted using a flat or angle brush in nine to ten strokes.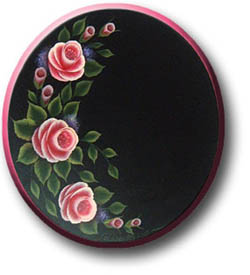 A beginner rose painting project may comprise two or three open roses with leaves and buds in a simple design such as on this plaque. The roses in this project were painted using a #8 flat brush.
---
---
Multi-layered stroke roses
While the early artisans painted the most naive and stylistic roses using a round brush, more sophisticated, multi-layered stroke roses can be painted using a flat brush or an angle brush today.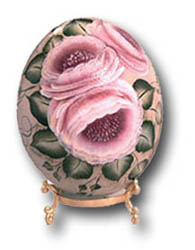 This ostrich egg was decorated with "pastel roses" - a technique taught by Vicki Nicholson using an angle brush at a workshop in Kuala Lumpur.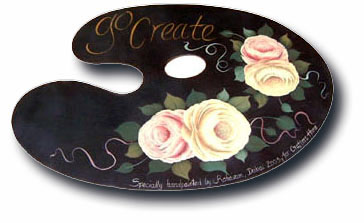 Again, different variations of multi-layered roses can be painted using the angle brush. The roses in this example were also painted using an angle brush and a similar technique to the basic flat brush stroke rose. This technique was taught at one of Artezan's public workshops in Dubai, UAE.
---
Painting roses freehand
In contemporary decorative painting, roses can be painted with a pattern or freehand. It is frequently taught using a pattern. Once the basic technique is mastered, it is not difficult to paint roses freehand.
Some decorative artists may prefer the structured look of the classic stroke rose while others love the loose and more casually painted rose. A casual look is more easily achieved when roses are painted freehand.
Painting freehand allows you to basically paint on anything. Have you tried tracing a pattern on a surface such as glass, ceramics or plastic? Or have you tried tracing a pattern on a rounded object such as a wooden salad bowl, a bisque vase or an ostrich egg?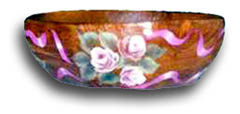 This old wooden bowl was simply wiped clean and decorated with freehand stroke roses and flowing pink ribbons.
Once you can paint roses freehand, you can pick up any item anytime and paint freely to create charming heirloom pieces. I found this charming antique-looking clock in a decorator's shop, striped the front and painted some pastel roses using a 1/4" angle brush. The sides of the clock were also decorated with roses.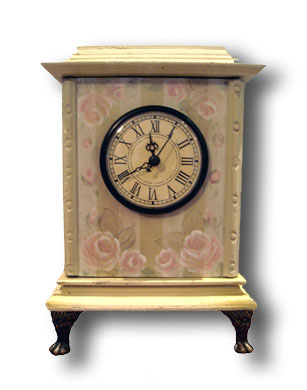 What about walls? Have you tried painting your studio or living room walls with roses? Having decided how you want to decorate the wall with roses, you can draw rough circles to represent roses then just proceed to paint!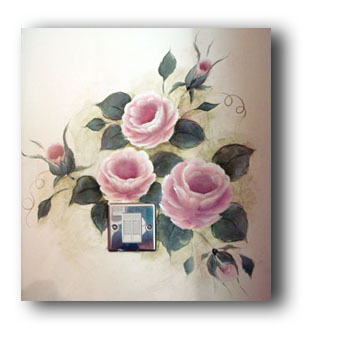 ---
Choice of colours
Roses are beautiful whether they are painted in pinky pastels or strong reds, yellows and oranges. On light backgrounds or darker ones. Whatever your preference, once you master the art of painting roses, nothing can stop you creating your treasures.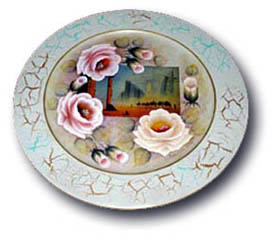 In this "Roses over Dubai" project I designed and painted as a tribute to Ros Singleton's seminar in Dubai, light pastel pinks and yellows were chosen as the colours for the roses and buds while the leaves were painted in light washy colours so as not to overwhelm the design. The postcard was decoupaged on the wooden plate before the roses were painted. The rim of the plate was crackled at the end, after all the painting was completed.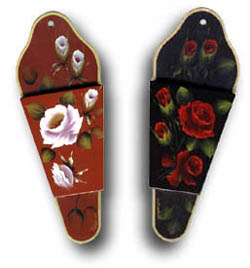 Different looks you can achieve - pastel pink roses on a maroon background or bright red on a stark black background.