What is Decorative Painting?
There is a long history to what we now call "decorative painting". It is by no means a "new" thing - rather it is something women (and men) of all ages have been doing for centuries to embellish personal objects and decorate gifts for loved ones. Because of this, decorative painting today is often referred to by many names including folk art, tole painting, country painting, and rustic painting. Recently I came across the term "folk art of decorative painting" in a website.
I believe it is appropriate to say that "decorative painting" today is a universal term which refers to the decoration of objects made of various materials by painting on them. Decorative painters apply various painting techniques - some borrowed from fine art and others inherited from traditional forms of the folk arts of yesteryear - to turn both functional and non-functional objects into unique decorative items, which we can collectively refer to today as "decorative art". While the terms "folk art" and "tole painting" have historical connotations, they are still painted, taught and learned today and together fall under the wider umbrella of "decorative painting".
Learn more about folk art and tole painting in
A History of Decorative Painting and
Tole Painting and French Folk Art.
Decorative painting as we know it today has become a popular pursuit among more and more people the world over. For some, it is a fulfilling and meaningful hobby that taps into their creative talent and provides them with a passionate way of expressing themselves. For others, their passion for creating beautiful decorative art and for sharing their knowledge and ability has made decorative painting a source of income - selling their work and / or teaching the art.
The paint medium used in decorative painting today is mainly acrylics. Oil paints are also used in decorative painting and tend to be more common among decorative artists who have been previously involved in the fine arts. Acrylic paints are water-based and therefore non-toxic. They are easy to use and clean with water and soap. Unlike oils, they dry very quickly - within 15 to 30 minutes - and therefore facilitate the layering painting techniques commonly used in decorative painting. Various mediums such as extender or retarder, clear glaze medium, stroke and blending mediums, blending gel, paint thickener, texture paste etc are frequently used in decorative painting to change the properties of acrylics paints thereby achieving different effects and results.
If it doesn't move, paint it!
Decorative painting is done on 3-dimensional objects rather than the flat surface of the traditional canvas. These objects may be made of any number of different materials but the most common today would be wood (e.g. pine or even rubberwood) and MDF (medium density fibreboard) which are cheaper than wood. Items made of tin, plastic, papier mache, and terra cotta, to name a few are also commonly painted on. Add to that, candles, baskets, fabric, leather, new or old.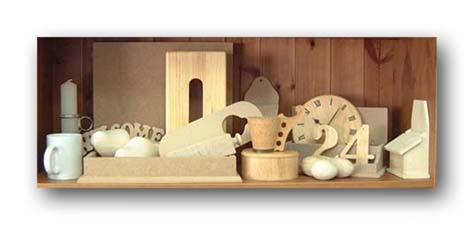 Ask any decorative painter and she will tell you that she paints on whatever surface she might find around the house that looks like it could be given a new lease of life through painting. If it doesn't move, you can usually paint it!
Visit the Decorative Painting Gallery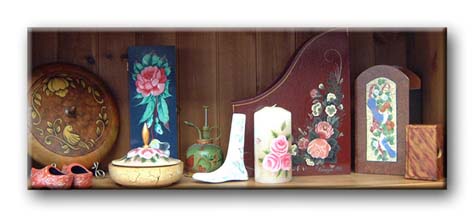 A selection of decorative painted projects (L to R): an MDF cookie box decorated with birds and scrolls to imitate intarsia, a pair of wooden Dutch clogs painted in traditional Dutch hindeloopen, a pine box painted blue and decorated with Russian zhostovo florals, an old trinket box found in a flea market given a crackled background and decorated with roses, a tin water spray given a country look, a shoe lathe painted with rosebuds, a candle decorated with roses, an IKEA magazine holder painted with cabbage roses, a utensils holder given an elaborate treatment with birds and peaches, and an MDF name card box painted to look like tortoiseshell.
What do decorative artists paint?
Decorative artists paint traditional folk art styles originating from various parts of the world which have in fact been passed down from generation to generation as well as a variety of contemporary painting styles. Many decorative painting projects incorporate other elements like faux finishes, borders, symbols and lettering.
Subjects painted are as limitless as surfaces painted on. Flowers are an eternal favourite in decorative painting, while birds, animals, people, naive sceneries, bears and other whimsical subjects are also common in the designs. Unlike fine art, all these tend to be painted in a stylised rather than a realistic manner especially in projects designed for the beginning decorative painter. Decorative painters with more developed or advanced painting skills also paint realistic still life, landscapes or trompe l'oeil projects.
Is decorative painting craft or art?
There is no simple answer to this question.
Decorative painting is often regarded as a craft simply because of the way in which it is taught and learnt - systematically, skill-building and technique-oriented. Anyone can learn decorative painting and certainly it doesn't require any previous training, artistic experience or special skills. Decorative painting students paint projects which the teacher has created. Different projects are created for different skill levels. In class, students are coached step-by-step as they learn the different skills associated with that project. There is little creativity at this stage of the learning process as a decorative painting student replicates the teacher's creations.
As skills are learnt and techniques mastered, decorative painters become more and more confident. This is when experimentation begins and the creative process develops: playing with colours, modifying designs provided, attempting freehand drawing and even designing simple projects on their own. As they progress, many will learn colour theory, perspective, as well as more sophisticated drawing and painting techniques and begin to let go of the "crutches" of using patterns, tracings and instructions to paint. Creation begins and this is when we can say decorative painting is more art than craft.
Decorative painting doesn't strive to be fine art. There will alway be elements of craft in the process of decorative painting: preparing surfaces for painting, sealing, sanding, staining, basecoating, varnishing etc.
Beyond that, the sheer fact that a decorative painter is able to transform an otherwise mundane thing into a unique decorative object by painting it with passion, heart and skill, I think it merits being considered as art.